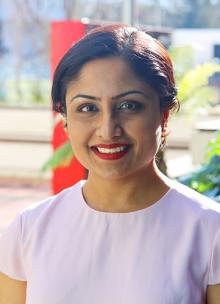 Email
saylasowat.siddiqui@anu.edu.au
Phone number
+61 2 612 57384
Office
Room 3.38, CBE Bld (26C)
Research areas
Banking and Finance
Corporate Finance
Merger and acquisitions
Biography
Sayla is a PhD Candidate in Finance as well as a Casual Academic at RSFAS, ANU. She completed her Master of Business Research (MRes) from Queensland University of Technology (QUT) with high distinction in 2013. Sayla was awarded with the prestigious Endeavour Postgraduate Award/2012 by Australian Government to pursue her MRes. Prior to that, she completed her graducation from University of Dhaka, Bangladesh. She has teaching experience in ANU, QUT and corporate experiences in financial sectors in Bangladesh.
Sayla is the Winner of the CBE Three Minute Thesis Competition 2019. She received AUD 1750 as a research grant for representing CBE at the ANU Three Minute Thesis Final (https://www.youtube.com/watch?v=BJ29zraK6IQ) as the CBE 3MT Finalist'2019.
She is highly passionate about public speaking, painting and swimming.
Publication:
Siddiqui, S. S. (2015), "The Association between Corporate Governance and Firm Performance - A Meta-Analysis", International Journal of Accounting and Information Management, Vol. 23, No. 3, pp. 218-237.
Siddiqui, S. S. (2012), "Capital Structure Determinants of Non-Bank Financial Institutions (NBFIs) in Bangladesh", World Review of Business Research, Vol. 2, No. 1, Pp. 60-78.
 Working papers at ANU:
The spillover effect of merger and acquisition on the local labor market (with Nhan Le)
Do patent trolls cause high-tech firms to delist (sole paper)
NPE opportunisim (sole paper)
ANU Three Minute Thesis Research Grant 2019
ANU Postgraduate Research Scholarship & HDR Fee Remission Merit Scholarship,    July 2016-till date
Endeavour Postgraduate Award'2012, February, 2012- August, 2013
CBE representative in University HDR Student Consultative Committee 2020-21
Secretary, Canberra City Toastmasters Club
Education Officer, Unilodge@ANU Residential Committe (Semester 1, 2019)
Member, Canberra Art Workshop
Member, Australia Awards Alumni Association Bangladesh (A4B), Bangladesh.
FINM 2003 - Investments
FINM 3005 - Corporate Valuation
FINM 7008 - Applied Investments