Image
CHIEF INVESTMENT OFFICER
The Chief Investment Officer is the leader of the SMF. The CIO works very actively with all teams and is responsible for ensuring that all internal fund processes are working effectively and efficiently. The CIO signs off on the investment processes used by the sub-teams.
Image
TEAM HEADS
The team heads are responsible for leading their respective teams, including assigning tasks, supervision and review. They work closely with the CIO to plan and manage fund processes. Additionally, they are to ensure maintenance of the SMF SharePoint and team handover manuals, upholding the legacy of the Fund.
Image
ACTIVE AUSTRALIAN EQUITY TEAM
The Active Australian Equities (AAE) team consists of a group of high achieving students who are responsible for researching, analysing and recommending investments in Australian listed companies. The AAE team manages approximately half the portfolio.
The AAE team works hard to find undervalued stocks that offer the potential to provide the Fund with strong and reliable long-term returns. This team takes the concepts and models taught in the classroom and applies them in the real and ever-changing financial market.
Image
ASSET ALLOCATION TEAM
The Asset Allocation (AA) team is responsible for setting the allocation of assets within the Fund. It does this through managing holdings within the other half of the Fund not managed by the AAE team. 
The AA team is a small pool of highly talented students who specialise in researching and formulating investment recommendations regarding the allocation of asset classes. The AA teams' recommendations are facilitated through the purchase and sale of exchange traded funds (ETFs).
Image
RISK & COMPLIANCE TEAM
The Risk and Compliance (R&C) team is responsible for identifying and managing the various risks within the fund, reporting of performance, and ensuring that the Fund complies with policy.
The R&C team consists of hard-working students who perform a variety of tasks including risk management, compliance monitoring and performance evaluation. They constantly monitor developments to ensure that stock performance, ESG scores and company management are stable.
Image
RELATIONSHIP TEAM
The Relationship team is responsible for communicating with external parties and promoting the SMF.
The Relationship team consists of future PR and management leaders who specialise in creating promotional material for the fund, engaging with external parties to find highly talented guest speakers, and preparing SMF reports.
Image
COURSE CONVENOR
The Course Convenor is responsible for the management of the SMF courses. This includes recommending students to receive invitations to enrol and assigning students to roles. The Course Convenor also helps the CIO set the agenda for SMF team meetings and authorises investment recommendations to be considered by the IAC.
Dr Hua Deng
Image
FUND CONVENOR
The Fund Convenor holds the delegation to make investments on behalf of the SMF, once they are endorsed by the IAC. They are also responsible for ensuring that the assets are managed in accordance with the policy of the University and the Fund, and is custodian of the key SMF policy documents  the Charter and Governance Structure, and the Investment Policy Statement. The Fund Convenor is Chair of the IAC.
Dr Dean Katselas
---
PAST STUDENT MANAGED FUND TEAMS
Meet past SMF teams who have left behind a legacy in the form of invaluable contributions to the Fund.
SEMESTER 1 2018
Image
L-R: Geoff Warren, Vipul Nijhawan, Harrison Papworth, Sarah Zhu, Zhongxi Zheng, Victor Managala, Ben Rada Martin, Alex Mai, Wayne Wang, Lanyu Zhang, Zhan Zhang, Olaide Yinka-Kehinde, Isabella Mortimore, Anna Von Reibnitz.
SEMESTER 2 2018
Image
L-R: Anna Von Reibnitz, Geoff Warren, Ruixin (Chasel) Chi, Chuxuan (Jessie) Jiang, Aiyun (Stephanie) Li, Lanyu Zhang, Victor Managala, Isabella Mortimore, Alex Mai, Rory Roche, Saurav Patel, Azmina Hossain, Jak Carty, Harrison Papworth, Hongyi (Leon) Xu, Zhongxi Zheng, Jiaqi (Leon) Liu, Zhan Zhang, Wayne Wang. Absent: Chenxuan (Charles) Zhang
SEMESTER 1 2019
Image
L-R:Geoff Warren, Hongyi  Xu, Anna von  Reibnitz, Sophie Lebang, Jak Carty, Harrison McKenzie-McHarg, Alisha Nath, Khurshed Mehta, Alaina Warwick, Dalton Tham, Charles Zhang, Lachlan Phillips, Luke Farrer, Chuxuan  Jiang, Aiyun Li, Azmina  Hossain, Saurav Patel, Sahibjeet  Bains, Jiaqi  Mao, Chaoqi  Lin.
SEMESTER 2 2019
Image
L-R: Anna von Reibnitz, William Ranson-Smith, Ash White, Rocky Lagudi, Chaoqi (Shawn) Lin, Alisha Nath, Luke Farrar, Dalton Tham, Harrison McKenzieMcHarg, Alaina Warwick, Khurshed Mehta, Lachlan Phillips, Sahibjeet Bain, Todd O'Dea, Charya Kannangara, Yanfei (Victoria) Rao, Sophie Lebang, Jiaqi (Karen) Mao, Geoff Warren, Jia Jun Desmond Ng.
SEMESTER 1 2020
Image
L-R: Anna von Reibnitz, Eric Gittleman, Rocky Lagudi, Yanfei (Victoria) Rao, Abhay Madan, Todd O'Dea, Chenfan (Winnie) Wei, William Ranson-Smith, Bernice Choi, Angus Lloyd, Ash White, Charya Kannangara, Matthew Pham, Ulrika Yui Ting Li, Shengchang (Albert) Zhang, Geoff Warren, Michael Oates, Nick Collings
SEMESTER 2 2020
Image
L-R: Bernice Choi, Chenfan (Winnie Wei), Josh Campbell, Associate Professor Geoff Warren, Nicholas Collings, Dr Anna von Reibnitz, Isabel Gray, Qing (Julie) Zhu, Eric Gittleman, Sida Li, Sailendra Sanku, Angus Lloyd, Albert Lake, Michael Oates, Arnav Chopra, Zhenyu (Alicia) Sun, Matthew Pham, Yao Xiong, Shalini Arokiasamy Rajkumar, Ulrika Yui Ting Li, Qifan (Cheryl) Yang
SEMESTER 1 2021
Image
L-R: Albie Lake, Jingxin (Ben) Mai, Yuchen (Ricky) Yang, Qing (Julie) Zhu, Josh Campbell, Seonghyun Yong, Jonny Lang, Lachlan Scott, Petal Wang, Jay Aluwihare, Jing (Jean) Ran, Max Burrows, Yao Xiong, Geoff Warren, Isable Gray, Zhenya (Alicia) Sun, Arnav Chopra, Sida Li, Felix Jones, Anna von Reibnitz, Michael Searle, Xinyi (Alice) Wang
SEMESTER 2 2021
Image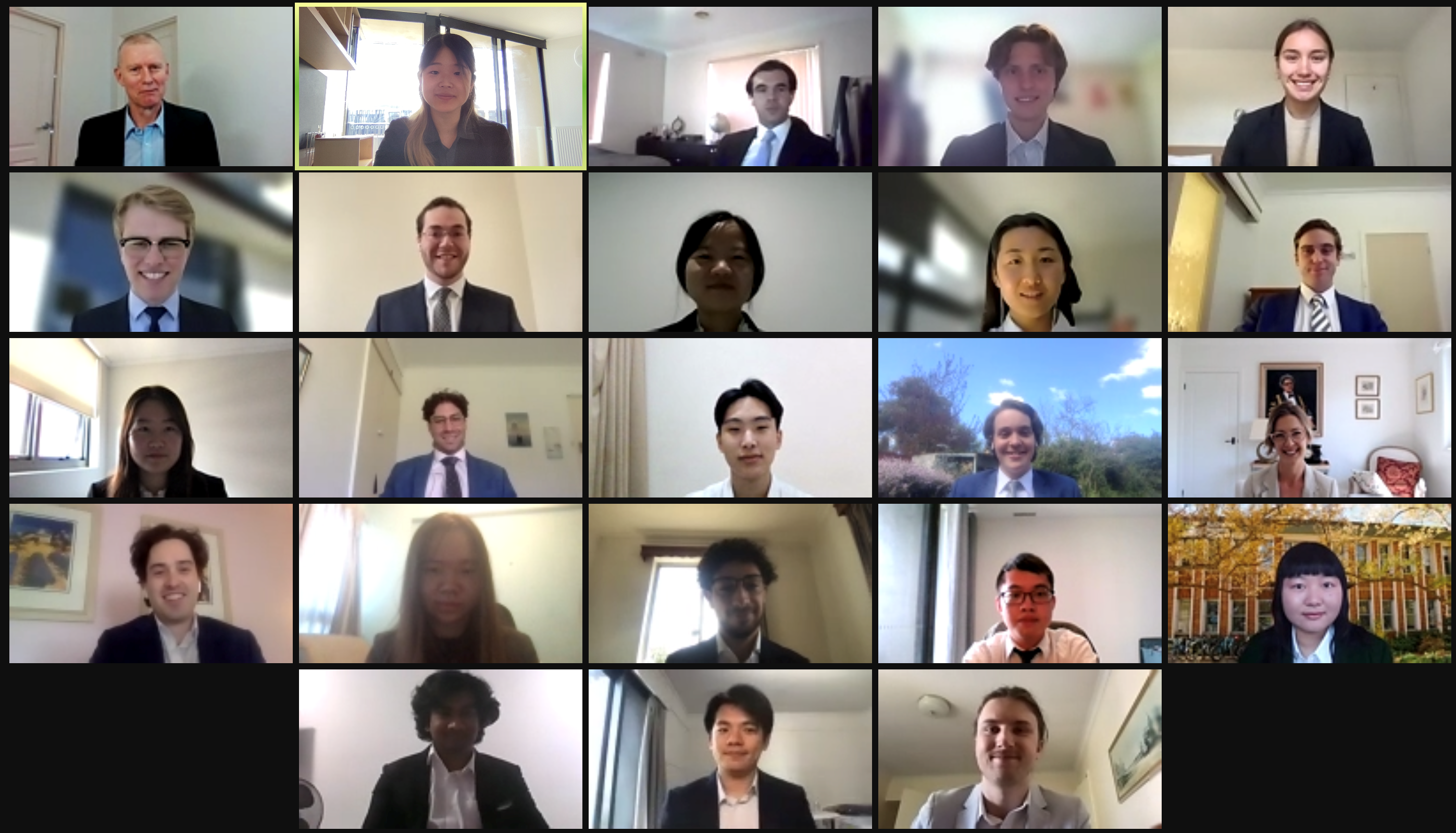 L-R: Geoff Warren, Sam Watson, Liying Xue, Lachlan Scott, Julie Lin, Michael Searle, Zac Taylor, JQ Tay, Jay Aluwihare, Max Burrows, Jing (Jean) Ran, Seonghyun Yong, Liam Asmaro, Yuchen (Ricky) Yang, Jonny Lang, Xinyi (Alice) Wang, Felix Jones, Jingxin (Ben) Mai, Dan Dwyer, Hannah Young, John Boyd, Anna von Reibnitz, Petal Wang
 

SEMESTER 1 2022

Image
L-R: Geoff Warren, Sam Watson, Nimeth Dissanayake, Callum McGarty, Julie Lin, Hugo Klimt, Jon Boyd, Olivia Cameron, Anvi Ghiya, Dan Dwyer, Evelyn Xue, James Gray, Janet Thudyan, Hugo Heanly, Bella White, Jayden Pham, Michael Salter, Stephanie Trinh, Hannah Young, Zac Taylor, Anna von Reibnitz (absent: Liam Asmaro, JQ Tay)
SEMESTER 2 2022
Image
L-R: Anna von Reibnitz, Nimeth Dissanayake, Tong Wu, Shuang Liang, Callum McGarty, James Gray, Anvi Ghiya, Bella White, Muhammad Saad Bin Khalid, Jayden Pham, Liv Cameron, Michael Salter, Ryan McCoy, James Riordan, Lachlan Simpson, Janet Thudyan, Jingwei Liao, Ben Carlyon, Conner Skidmore, Hugo Heanly, Stephanie Trinh, Alexander Aranega, Hugo Klimt, Geoff Warren.
SEMESTER 1 2023
Image
L-R Back Row: Anna Von Reibnitz. Guiming Miao, Ryan McCoy, Lauren Vanstone, Liam Newport, Lachlan Simpson, Matthew De-Bortoli, Ben Carlyon, Alexander Norman, James Riordan, Geoff Warren; Front Row: Ricky Liu, Shuang Liang, Jingwei Liao, Joseph Bamber, Caitlin Tully, Emerson Yang, Gurisha Gupta, William Brake, Conner Skidmore, Ryan Phillips, Sueyoon Kim, Callum Vincent